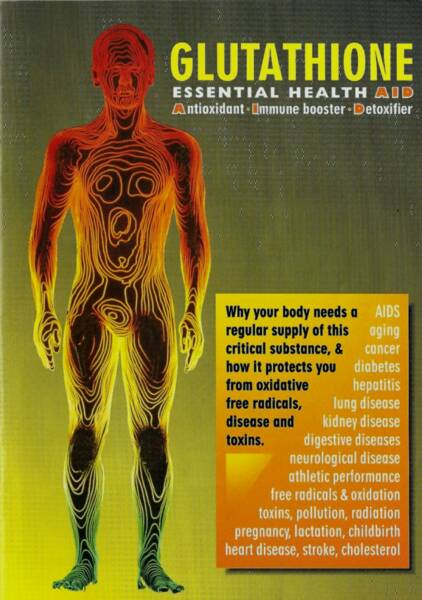 by Sean Croxton
It is called the master antioxidant.
Master detoxifier, too.
It protects every single one of your 50 to 75 trillion cells, including your brain.
The lower your levels of it, the higher your risk of cancer, Parkinson's, Alzheimer's, and autoimmunity.
And as of today, a Pubmed search displays 95663 scientific articles on it.
BUT I bet you've never heard of it.
Why? Well, maybe because you can't fortify juices, cereals, and Diet 7-Up with it.
Or maybe because today's multi-billion dollar antioxidant industry will crumble to its knees once the public catches wind of it.
When it comes to antioxidants, glutathione is as underground as it gets.
Before we jump into exactly what glutathione does, let's discus why it does it. You have probably heard the phrase "the powerhouse of the cell". Every time I hear that I flash back to elementary school and the entire class shouting "THE MITOCHONDRIA!".
The mitochondria's nickname couldn't be any more appropriate. Housed within each of your cells, they generate the energy your body runs on by way of utilizing oxygen to convert food into fuel, or what is known as ATP.
Just like your car produces exhaust as a byproduct of the burning of gasoline, the mitochondria's energy production system creates reactive oxygen species, better known as free radicals.
The mitochondria have a built-in protection system (antioxidant enzymes) to protect themselves from these free radical scavengers. However, 5% escape and wreak havoc on the cell, including damage to the DNA (potentially cancerous), enzymes, and cellular membrane. No bueno!
To get an idea of how these free radicals work, let's use an analogy I actually heard last night from my friend Blue Elam. If you were to put 10 rambunctious boys into a room with 9 basketballs, what would happen?
First of all, you'd be a cruel, mean person for doing that. But the boy without a ball would steal a ball from another. And then the boy who doesn't have a ball anymore will steal one from the next boy. And it never stops!
This is exactly what free radicals do. They steal electrons from vital areas of your cells in order to fill their outer shells. This process, called oxidative stress, has been associated with over 200 different diseases and conditions. In fact, a Pubmed search for oxidative stress displays 87374 scientific papers! In some cases, the free radicals cause the disease. In others, the disease causes the oxidative stress.
This is exactly why we have become so enamored with dietary antioxidants in the forms of expensive juices, supplements, and of course, fortification of processed foods.
As we discussed in Tuesday's blog, dietary antioxidants, while effective, are in fact inferior to the antioxidant enzymes produced by your cells. These enzymes include superoxide dismutase, catalase, and the pound-for-pound antioxidant champ glutathione.
Glutathione is a protein consisting of three amino acids (a tripeptide). Its job is to act as a cellular security guard and protect the cell and mitochondria from free radical damage. When glutathione levels become depleted due to aging, stress, heavy metals, pollution, radiation, poor diet, and more, free radicals run wild. One consequence is the dimming of the lights in your cellular powerhouse. In other words, your energy production slows down. Is it any wonder why we have an epidemic of Chronic Fatigue Syndrome!
Glutathione works in conjunction with dietary antioxidants. It breathes new life into the water-soluble vitamin C, which then interacts with the fat-soluble vitamin E and CoQ10 (also vital for energy production), helping to keep antioxidant levels of those intact. (Perricone, 35)
If you're taking a handful of vitamin supplements every day, you'll be well served to boost your glutathione levels to keep them hanging around for longer.
In a nutshell, glutathione is what I call the bomb!
But don't take my word for it.